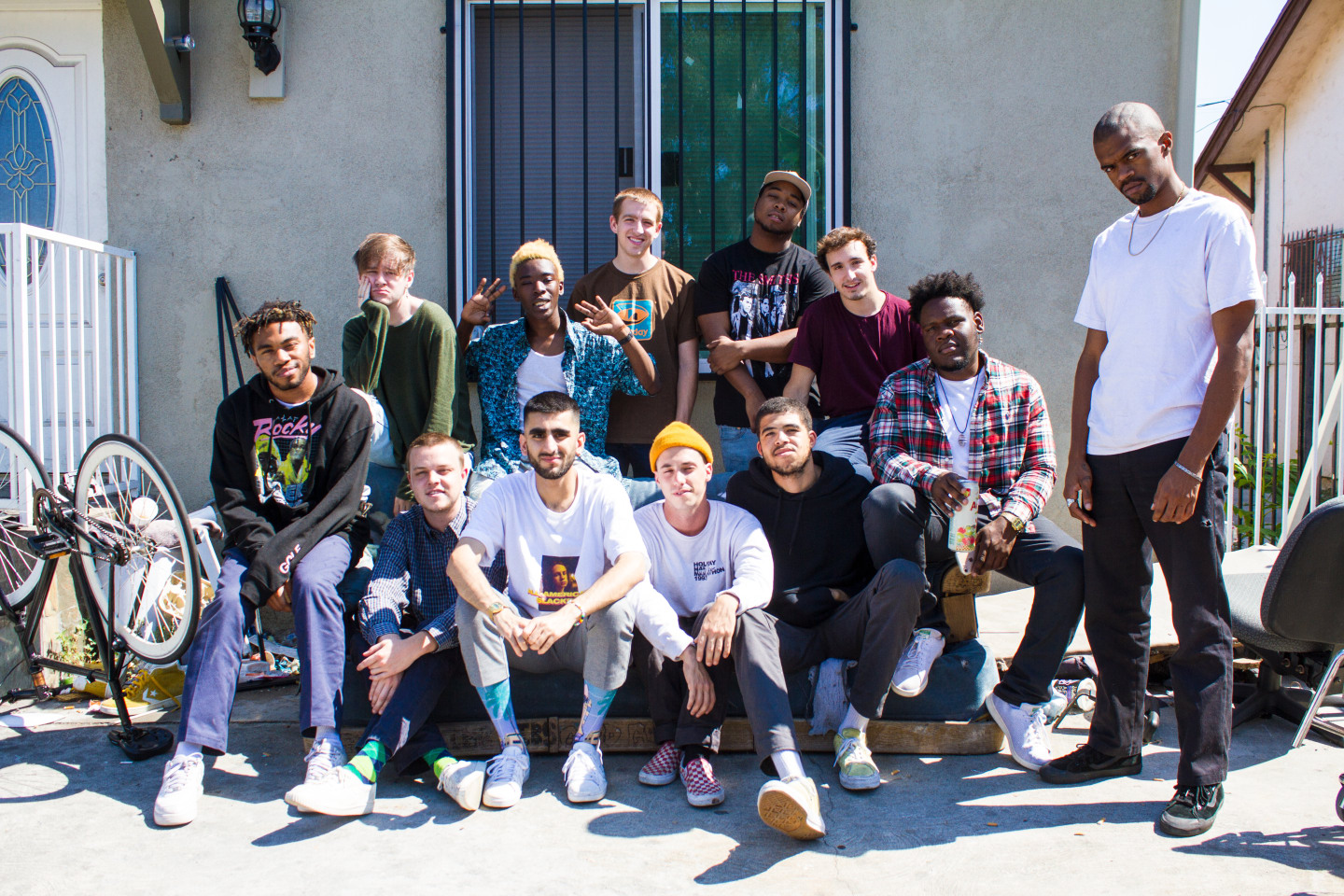 By: Brandon Ben 
@brandonben 
Brockhampton is a hip-hop group initially formed in San Marcos, Texas, but currently based in California. They are a self-professed, "American Boy Band." The group consists of many very creative individuals including rappers, art-directors, producers, photographers, and more. I had only heard of the group before and passed them off until I saw their interview with Nardwuar (check it out below). After I saw the creativity, humor, and passion from this group, I began to listen to their music. From then on, I was hooked. Let's break down the members. 
Kevin Abstract: Rapper, founding member. Kevin hints at his sexuality in the Narduwar interview, stating that Dr. Dre did a lot for LGBT rappers back in the day. If you listen to his lyrics, he talks about his sexuality a lot, and often points out that not many rappers talk about being gay. 
Ameer Vann: Rapper. Ameer seems quite personable, plus he's on all of the album covers. He's a long-time friend of Kevin, and a core member for sure.  
Matt Champion: Vocalist. A very versatile singer, he adds a lot of personality to the group. Check out the track "BOYS" to hear him shine.  
Jabari Manwa and Kiko Merley: Producers. These dudes are a duo known as Q3. During the Nardwuar interview, Kiko was not actually present, luckily Narduwar brought in a photo of the man. Jabari was, and he shared that he was almost not a member of the boyband. It wasn't until he impressed Kevin with some "hard beats" that he jumped onboard.  
Ashlan Grey and Henock "HK" Sileshi: Photographer and Creative/Art Director. Clearly, art is important to the image of Brockhampton, and you can see it in their videos, and the album art. These guys help the group be more than just a band, but a group of influential individuals.  
Marlyn Wood: Rapper. Quite the quirky individual, an important voice in the band. He may be a funny rapper, but he's also very meaningful. Listen to him on "MILK." 
"Walking through the pit falls of a college student/Crazy how you get them letters and that make you feel accepted/Til you walking 'round the campus and you the only African" 
Bearface: Singer and Producer. This dude is from Ireland, which was quite surprising to me. To me, he adds a certain flavor to the group, I mean, he goes by Bearface!  
Robert Ontinient: Web developer and Producer. Robert is a self-proclaimed "utility player." Its cool that they list their webmaster as a member. Goes to show the importance of everyone in the group. 
Romil Hemnani: Producer. He is an important contributor to the sound of Brockhampton as he produced a lot of SATURATION as well as the early work of Kevin Abstract. He's also a very excited and spunky individual, check him out in the interview with Nardwuar!  
Dom McLennon: Singer, Rapper, producer. A huge contributor to lyrics. He tackles a lot of issues regarding mental health. Listen to "TRIP."  
"Everybody smilin', I don't see what's funny 
Everybody friends, guess I wasn't lucky 
Family full of athletes, I was kind of chubby 
Shit was never sunny, wrists were sorta bloody 
Lick my wounds with honey, save me for the vultures 
I'm fallin' in the void, I don't know what I discover" 
JOBA: Singer, producer, engineer. Another high school friend of the group, he is quite the talented musician with actual music theory training. He sings on many of the tracks and gives a very interesting sound. To hear him sing, check out the track "SISTER." 
So, Brockhampton is full of a diverse bunch of young, genre bending, talented musicians, rappers, singers, producers, etc. They are kind of like Odd Future, and there's no doubt that Odd Future has influence the group, but, they seem to be more artistic, and more emotionally driven. It's a refreshing take on today's rap and popular music world. These guys aren't going anywhere.  
Sources: 
http://www.thefader.com/2017/07/13/brockhampton-members-kevin-abstract-interview-saturation 
https://www.youtube.com/watch?v=xaqwV7jisic